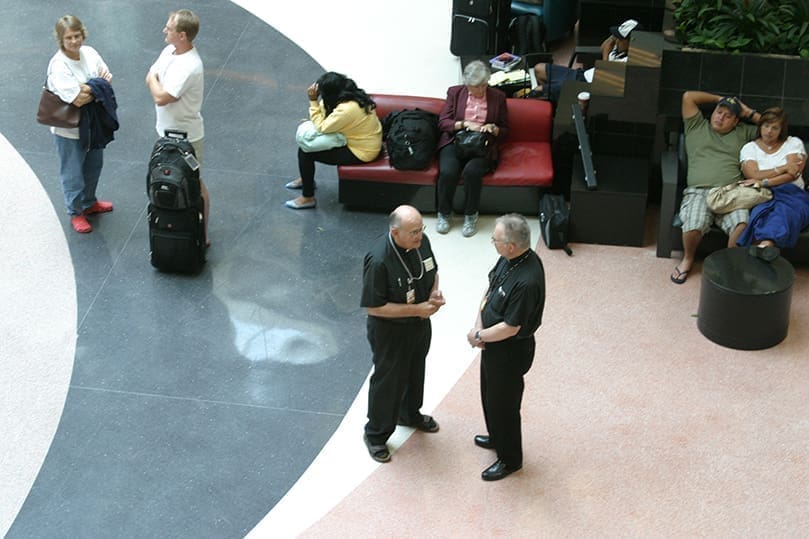 By ANDREW NELSON, Staff Writer
|

Published September 4, 2008

More than a quarter of a million people daily fly out of Hartsfield-Jackson Atlanta International Airport. And 60,000 airline, concessionaire, airport and security employees work there.

Deacons Don Kelsey and Mike Landaiche care for the souls of all of them.

The two men in their Roman collars stroll the baggage claim area. They say a quick hello to the security workers and joke with attendants at the Air Canada ticket counter. A man and woman pulling luggage are pointed to the correct parking garage. In Terminal E, the international arrival area, a confused passenger just off a flight from Korea is sent in the right direction.

The two deacons of the Atlanta Archdiocese are part of the Interfaith Airport Chaplaincy, a 25-year program to serve the spiritual needs of the airport community.

Air travel puts millions of people in transit. And Atlanta is the world's busiest airport. Every day there are the road warriors away from home. Or people traveling to funerals to pay their respects to loved ones. Or young people about to embark on global adventures.

Deacon Don has been walking the terminals for close to 20 years. A ministry in the airport made sense as a retired official with the Federal Aviation Administration. He's been there to greet Olympic athletes and was rushed out of the airport on 9/11. Often it is the small kindnesses that fill his hours on the concourses.

For instance, he spotted a mother feeding an infant and trying to mind her three other youngsters at the same time. He stepped in, spoke a few words with the mother and turned his attention to the boys. Out came the paper and crayons.

"First thing I know, I am on the floor with the three boys. And I probably spent an hour with them. For me to do that for her was to help her through a struggling time," says the 75-year-old.

As Landaiche studied to become a deacon, he was challenged to think creatively about where he could serve the church.

"You have to have an open mind," says Deacon Mike, 74, a diaconate cross and airport photo ID hanging around his neck. Deacon Mike, a world traveler who has touched down in 43 countries, has been doing this work for several years.

The airport chaplain program follows the military model, where the chaplains tend to the diverse spiritual needs of everyone who crosses their path. The deacons, two out of nearly 200 permanent deacons in the Atlanta Archdiocese, said they are not out to convert people Instead they aim to be of comfort when nothing seems to be going right.

Deacon Mike once was invited to pray by a Muslim. He said the request forced him to craft a prayer that respected both faith traditions.

"To be there whenever they need someone to be there," is how Deacon Don puts it.

Today there are some 140 airport chaplaincies in more than 39 countries, from Oslo, Norway, to Bangkok, Thailand, according to the International Association of Civil Aviation Chaplains. The first known airport chapel was opened in 1951. Located in Boston's Logan International Airport, Our Lady of the Airways continues to serve passengers and workers in the Boston Archdiocese. It is located between Terminals B and C on the ground level. Today, there are more than 50 Catholic airport chaplains working in nearly three dozen airports around the country.

Atlanta's airport chaplain program dates back to 1972 as a project of the Christian Council of Metropolitan Atlanta. In 1980, the Interfaith Airport Chaplaincy was incorporated as a nonprofit with a three-person board of directors: Father Jack Druding representing the Catholic Church, a Protestant minister and a Jewish rabbi.

Father Druding, now retired at 72, served 10 years at the airport, spending some 20 hours a week there as he worked at nearby parishes. (Father Druding, in fact, convinced Deacon Don to give the ministry a try.)

Father Druding said the ministry is invaluable, especially since so many travelers face stressful situations.

"It was great because (airline officials) knew someone was there that was interested and concerned" if a passenger was upset, he said. The work was "ministry to the people," he said.

Atlanta's airport chapel is a quiet place, about the size of a bedroom. It is blue and a cloud sculpture hangs from its ceiling. It is nestled between the bustling atrium and the strip of car rental agencies.

Rev. Chester Cook, a United Methodist minister, has been leading the nonprofit organization for seven years. He is assisted by as many as 30 chaplains from various faiths and volunteers. The program runs on an $80,000 budget raised from private donations, church contributions and foundation grants.

It is a "marketplace ministry," where chaplains help workers and travelers with words of encouragement or get them through a crisis as they go about their lives, he says, after having a conversation with airport workers about aiding a troubled man before he becomes an issue for police.

The nonprofit organization relies on faith groups to sponsor chaplains. Rev. Cook says he hopes to have a Jewish chaplain soon. And while it is great to have the deacons, Rev. Cook says he often fields phone calls asking if Mass is celebrated at the airport. It is not, but officials at the archdiocese are studying how priests can be available to serve at the airport.

Some 2,000 people visit the atrium chapel every month. A more prominent location and bigger space may draw even more people looking for respite. In the fall, the chapel will be located on the second floor, within viewing distance of the atrium. It'll more than double the chapel's size, sitting 50 people, with three offices. There will be two smaller rooms for meditation, prayer and reading.

"In our new facility, we'll be in your face. Prime real estate," says Rev. Cook.

People travel through airports for life-changing events, funerals or visits to a dying loved one. Flyers have a lot on their mind and weigh serious questions, said David Miller, author of "God at Work: The History and Promise of the Faith at Work Movement."

"They are in a sad state. Sometimes going to talk to the chaplain may give them a sense of peace out of their time of grieving," says Miller, president of The Avodah Institute.

Chaplains have traditionally been in places of dying or possible danger, such as hospitals and the military, where people face life and death. But now chaplains are showing up more in offices to help employees with concerns of daily life, he said.

The deacons work every Tuesday. They show up around 9:30 a.m. and stay until mid-afternoon. The routine varies. If the weather is bad and the luggage area is filled with angry passengers, they make a point to stroll through there. They will stick their head in to the lost luggage areas since emotions can get heated. They like to think their presence can help people keep tempers in check and provide a friendly face to airport workers who feel under siege.

Deacon Don said despite the competition among airlines, when tragedy strikes the workers overlook whether they get paid by United, Delta, American, any airline, but that they are working for "a community and they all join together to support one another."

"I don't think that is ever publicized," he said.

They like to work on concourses B and E.

On the way to the trains, after going through security, they are spotted by Atlanta police officer Raymond Morrison who patrols the airport.

"It does me good to see them. They are very approachable. I can go talk to them," he says. "They seem genuine, very good people. Just having the guys around has a calming effect."

The deacons and Morrison collaborate on the HOPE team, which helps the homeless and mentally ill find permanent help instead of a trespassing charge.

Stu Cohen is a manager with the Transportation Security Administration. He sits in a perch watching the security area.

"I've never seen either one of them frown. They really bring a light. You can always count on them," says Cohen.

He tells Deacon Mike that he'd like to talk sometime about his faith journey.

With their Roman collars, the deacons stand out from travelers with rolling luggage. And their anonymity on the concourse makes them available for the traveler. Everyone knows they'll likely never run into the deacons again, so barriers of embarrassment fall quickly. Prayers and requests for help come easier, as travelers know tomorrow they will be miles away.

Deacon Mike recalls when a man coming up the arrival escalator asked to pray together. The passenger returned from a medical trip to learn of terminal cancer. A quick prayer and they went their separate ways.

"You get a sudden request for something extremely important to somebody and then after that it goes away. The person goes away. He doesn't know who I am. I don't know who he is. But that's not important because the Holy Spirit knows who both of us are," says Deacon Mike.