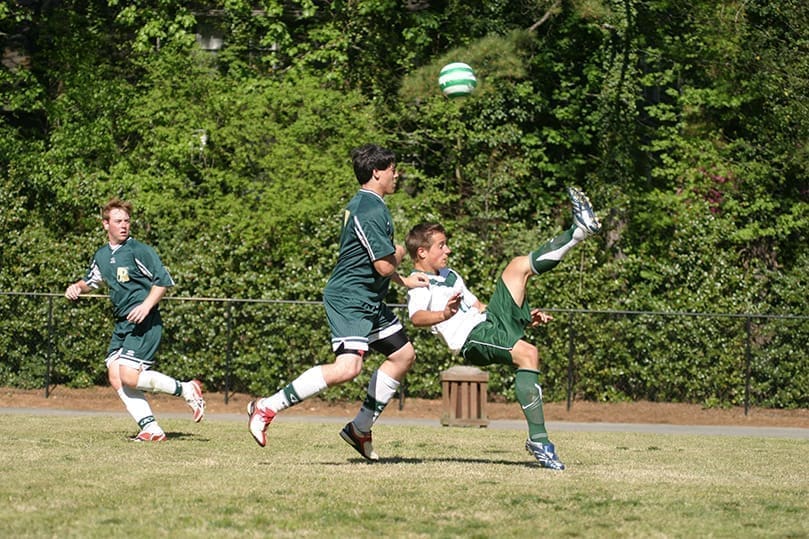 By MICHAEL ALEXANDER, Staff Photographer
|

Published May 1, 2008

The Pinecrest Academy boys soccer team had to come from behind to eventually eke out a 2-1 victory over a pesky Holy Spirit Preparatory squad. Both teams remained scoreless through halftime. In the second period, however, Holy Spirit junior midfield forward Matt Dale gave his team a 1-0 lead. Eight minutes and six seconds later, Pinecrest tied the game on a goal by sophomore forward Kevin Metz with an assist from junior sweeper Michael Breimle. With 5:51 left in regulation, Pinecrest was able to capitalize on a Holy Spirit communication error that led to the game-winning goal from junior midfielder Zach Carlise.

First-year head coach for Pinecrest Ryan Leone said, "I was very impressed with the intensity of Holy Spirit. We went down a goal early in the second half, but remained focused and didn't allow it to slow our game."

After losing eight seniors from last year's team, Holy Spirit (5-7) is in a rebuilding season, but they raised the level of their game against Pinecrest. Holy Spirit junior goalie Chris Oppermann rallied his team's confidence with several crucial saves during the match. Holy Spirit has lost five games this season by one goal, two in overtime. Metz said, "Every time we come here, no matter what their record is, they somehow make it a close game."

Holy Spirit takes on North Cobb Christian School May 1 at home. Pinecrest Academy, the only undefeated team in the north region at 7-0-1, travels to Dalton May 1 to face Christian Heritage School.