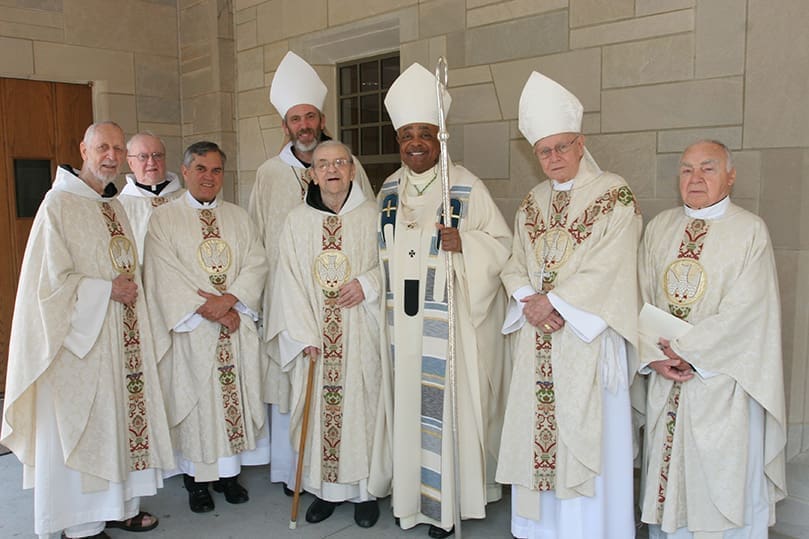 By STEPHEN O'KANE, Staff Writer
|

Published May 22, 2008

More than 200 years of priestly service were celebrated at the Jubilarian Mass held Wednesday, May 7, at the Cathedral of Christ the King.

Diocesan and consecrated religious priests alike processed into a quiet sanctuary Wednesday morning for the opportunity to be honored by the archbishop, their fellow priests and a few lay friends as well.

Eight priests were honored at the Mass, including LaSalette Father Joseph Nolan of St. Ann Church, Marietta, and Trappist monk Father Luke Kot, the last living founder of the Monastery of the Holy Spirit, Conyers, who each celebrated their diamond jubilee of 60 years in the priesthood. Trappist Father Thomas Francis Smith, also a member of the monastic community in Conyers, was honored as he celebrated his golden jubilee of 50 years as a priest.

Also honored at the Cathedral were five silver jubilarians with 25 years of service. They included Abbot Francis Michael Stiteler of the Monastery of the Holy Spirit; Father Jim Curran, a Claretian priest serving at Corpus Christi Church, Stone Mountain; Father Vincent Sullivan, administrator of St. Paul the Apostle Church, Cleveland; Father William King, serving as judicial vicar of the Metropolitan Tribunal of the Archdiocese of Atlanta; and Trappist monk Father Edward Morley.

Archbishop Wilton D. Gregory spoke directly to the priests during his homily, offering an encouraging message to the priests of many ages, races and cultures.

"The priestly office is a unique expression of the identity of Jesus and one as difficult to comprehend as are those many titles that he takes upon himself (in) the four Gospels," the archbishop said. "Yet for reasons that only God himself can comprehend, Christ has chosen to manifest himself in us as we embrace the priestly office that we celebrate this morning."

Archbishop Gregory went on to say that to fully embrace their role as priests, they must remain firmly rooted in Christ. He encouraged them to continue a strong prayer life that draws them into "deep and personal conversation with Christ each day."

"Remaining in him will keep us from being withered or despondent or rejected or confused or picked up only to be thrown in the fire and burnt," Archbishop Gregory continued. "In him, we will become attractive encouragements for young men who will find us both engaging and captivating witnesses of the priesthood of Jesus Christ."

Following the archbishop's homily, all the priests present were invited to participate in a renewal of their priestly commitment by responding to questions and statements read by the archbishop.

"My dear brothers, today we celebrate the anniversary of our ordinations in which you share with the apostles and with each other Christ's call to the priestly service of his church. Now in the presence of your bishop and God's holy people, are you ready to renew your own dedication to Christ as priests of his new covenant?" the archbishop asked.

The priests promised, with unified voices, to unite themselves more closely to Christ and to be faithful ministers of God and the Eucharist, and vowed to "imitate Jesus Christ … by teaching the Christian faith" solely for the well-being of the community and without thinking of their own profit.

The laity in the church were then addressed by the archbishop and asked to continue to pray for their priests to help them remain faithful ministers.

The celebration was important to the priests present, and it gave them an opportunity to reflect on the significance of their role to both the laity and the other priests in the Catholic community of North Georgia.

"We are grateful for our priesthood … and also excited for the whole archdiocese," said Abbot Francis Michael. Four monks from the Conyers monastery were honored at the celebration, which this year recognized more religious order priests than diocesan priests.

But according to Archbishop Gregory, "the priesthood of this church is reflected in all of them."

Following the Mass, the priests gathered in the Cathedral's social hall for a meal. The room was full of laughter as many of the priests joked and told stories about their years as priests.

"I should have retired 34 years ago," said Father Luke. "But I like to work."

The 97-year-old monk shows little signs of slowing down.

"I don't care to retire. … I would be wasting my time. It's not what you get, but what you give God that makes life here and in heaven so very good," he said.

Special attention was paid to the older priests, as their tables were the first ones to pick up their food. The camaraderie continued as the priests enjoyed a hot meal and good company.

"I don't think I've ever missed a jubilee celebration," Father Terry Kane, pastor of Sacred Heart of Jesus Church, Hartwell, said with a smile. "It is always fun."

Priests celebrating 60 years of ordained ministry are:
Father Luke Kot, OCSO
At 97, Father Luke Kot of the Monastery of the Holy Spirit remembers vividly the day he arrived in Conyers on March 22, 1944. He and 21 other monks had traveled by train all night from Gethsemani Abbey in Kentucky. He is the last remaining founder.
A native of Niagara Falls, N.Y., Father Luke knew at age 14 that he wanted to lead a religious life but couldn't decide on the order or direction. At 27, he set out to find the monastery and entered the Trappist order at Gethsemani Monastery in Kentucky. Two years later in 1944, Father Luke took his solemn vow at Gethsemani Abbey and shortly after that found himself at the fledgling monastery in Rockdale County, Georgia. He was ordained to the priesthood in 1948. Father Luke has worked as secretary to various abbots and also served as the monastery tailor under eight abbots from 1956 to 2008—52 years. Father Luke, now at 97, still does his daily chores. His tailor job in the morning lasts from 9 a.m. to noon and between 2:30 and 4:30 p.m. he performs his other assignment—bathing, feeding and praying with the monks who are in the infirmary.
Father Joseph Nolan, MS
Father Joseph Nolan, a LaSalette priest, was born in 1920 in Boston. He was ordained in 1948 at the age of 28, on the feast of St. Joseph, and celebrates his 60th anniversary as a priest this year. Father Nolan, who serves as the associate pastor of St. Ann Church, Marietta, has been at the parish since 1990. The priest has served in a variety of locations throughout the world, including 14 years overseas in England, 12 years in Fairmont, W. Va., and three years in North Carolina. In the Atlanta Archdiocese he has served as administrator of Our Lady of the Mountains Church in Jasper when it was first established as a mission to serve Catholics in Pickens County, and as administrator of Our Lady of LaSalette Church in Canton when it was first established for area Catholics. He was also pastor of Blessed Sacrament Church in Atlanta.
Celebrating a golden jubilee as a priest is:
Father Thomas Francis Smith, OCSO
Father Thomas Francis was born and raised in Baltimore and educated in Catholic schools. After high school, he joined a Catholic teaching community of brothers dedicated to teaching youth. After training with the community, he taught at a high school in Louisville, Ky., for five years.
Under the influence of the writings of Thomas Merton, he became a Trappist monk at the Monastery of the Holy Spirit in 1951 at Conyers. In 1958, he was ordained a priest by Atlanta Bishop Francis Hyland. While Conyers has been his home monastery, he has traveled to several other countries to teach monks about liturgy, theology and church history. He spent five years in the Trappist monastery in Kenya, where he learned Swahili. Upon his return from Kenya in 1970, he spent another eight years in Conyers before being asked to teach in Nigeria for a year. He also spent six months in a French monastery and has traveled to the Philippines and China. His last foreign mission was as chaplain to a community of Trappistine nuns in Venezuela. Since his return from there in 2001, he has been assigned to the retreat house in Conyers, where he gives spiritual direction, conducts centering prayer workshops and teaches contemplative prayer to retreatants.
 Celebrating 25 years as priests are:
Father Jim Curran, CMF
Claretian Father Jim Curran, born in Honolulu, Hawaii, celebrates the 25th anniversary of his ordination this year. Father Curran has served as associate pastor of Corpus Christi Church, Stone Mountain, for seven years and has worked in a variety of ministries since he became a priest in 1983.
The Claretian priest taught high school for 10 years and has worked with youth for more than 40 years. Serving throughout the United States, including in Missouri, Virginia and New York, Father Curran has also worked with a Spanish-speaking ministry in California for nine years and an AIDS ministry in New York City.
Father William King
Father William King, judicial vicar of the Metropolitan Tribunal of the Archdiocese of Atlanta, celebrates his 25th anniversary of ordination this year. The priest, who hails from south central Pennsylvania, served as the judicial vicar of the Diocese of Harrisburg, Pa., from 1990 until 2005, when he came to Atlanta. Father King, who has a distinguished record of priestly service in pastoral, academic and leadership roles, oversees the Tribunal, the church's court of law, and assists in case management and judicial processes. He has also served the Canon Law Society of America and has served as the auditor, secretary and adjutant judicial vicar for the Harrisburg Tribunal.
Father Ed Morley, OCSO
Father Ed Morley was born in Jersey City, N.J., in 1931. His family moved to Philadelphia when he was 10. He is a graduate of Roman Catholic High School, the oldest Catholic high school in the U.S. dating back to 1890, and of La Salle University in Philadelphia.
Father Ed entered Our Lady of the Holy Spirit Monastery in 1974. He professed solemn vows on 1979 and was ordained into the priesthood on April 9, 1983, by Archbishop Thomas A. Donnellan. He was 52 years old at the time of his ordination. Father Morley has spent some time working outside the monastery during his 25 years of priesthood. He alternates his time as Mass secretary and at computer work compiling data and acknowledging letters and sending letters of thanks to donors and benefactors.
Abbot Francis Michael Stiteler, OCSO
A native of Philadelphia, Abbot Francis Michael entered the Cistercian Monastery of Our Lady of the Holy Spirit in Conyers in 1974, professed solemn vows in 1980, and was ordained a priest on April 9, 1983. He earned a master's degree in pastoral counseling from Loyola University in Baltimore.
Over the years he has served as the monastery's novice master, prior, subprior, junior master and director for monastic studies. A naturalist by avocation, Father Francis Michael has photographed and identified birds, butterflies and dragonflies on monastery grounds.
In an interview years ago, he recounted how while traveling in Europe in his 20s he was able to speak twice to Mother Teresa of Calcutta about what his life's work should be. She reportedly told him, "It is not important what you want to do. You've got to find out what God wants you to do." He came home and in his search wrote to several monasteries, including the one in Conyers. A warm response from Father Francis Xavier, one of the founders of the monastery, drew him here. Father Francis Michael was elected the seventh abbot of the monastery in 2004.
Father Vincent Sullivan
Born in the former British colony of Rhodesia, Father Vincent Sullivan witnessed much of the region's struggle for independence. Father Sullivan is one of five boys and two girls in his family and grew up in southern Rhodesia, now known as Zimbabwe. The priest was ordained in 1983 and celebrated his silver jubilee this year. He came to the United States in February 2002 during a one-year sabbatical, following seven years of mission work in the bush of Africa. Currently assigned to St. Paul the Apostle Church, Cleveland, the priest has served many parishes in the Archdiocese of Atlanta, including the Cathedral of Christ the King, Atlanta, and St. Lawrence Church, Lawrenceville.