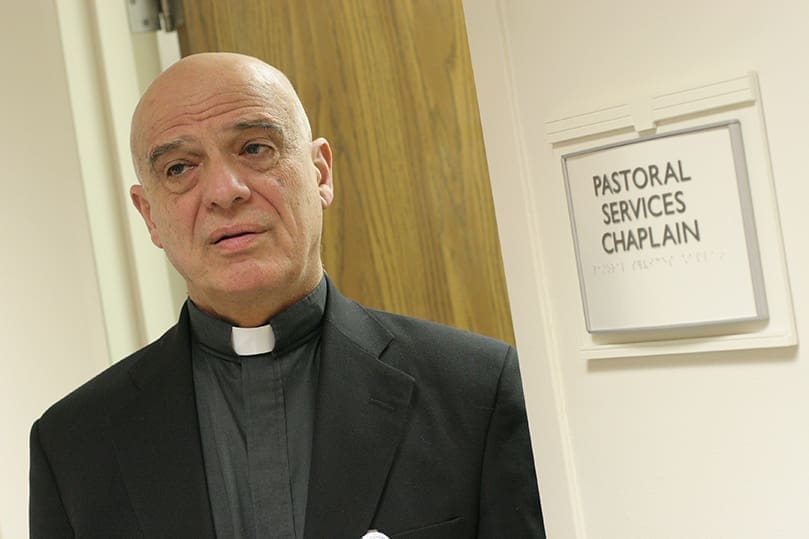 By ANDREW NELSON, Staff Writer
|

Published April 3, 2008

"God please help," is a prayer Msgr. Frank Giusta whispers from his lips to God's ears.

"First of all, you pray fast. More than anything else, I listen," said Msgr. Giusta, who is nearly three months into his new position at Emory University Healthcare System. He is learning that patients can inspire faith and listening is more valuable than talking.

It is the first time there's been a Catholic priest as a chaplain to serve in the complex of hospitals and geriatric center in the Druid Hills and Midtown neighborhoods.

It's a Monday morning. Msgr. Giusta arrived early to pick up the list of Catholic patients in Emory University Hospital. There are 13 patients he'll need to see. It is a number he believes is too low for the 575-bed hospital. He often learns of Catholic patients from family members greeting him in the hallway or from church volunteers distributing Communion. Today, the list is low; it has been as high as three-dozen patients at times.

A hospital is a place of uniforms. Doctors and nurses dressed in white coats and scrubs. Msgr. Giusta has his, a black shirt and Roman collar. He speaks with an accent from his native Italy.

"They know very well I can't perform miracles," he said. "People know the church is with them at their time of suffering."

Typically, Msgr. Giusta visits the most ill patients in the intensive care units before migrating to other departments. A visit can last five minutes or go on for hours. His goal is to simply introduce himself, engage in conversation. If patients want, he provides Communion to them, which he carries in his jacket pocket, or other sacraments. If they are sleeping, he leaves a card with his phone number.

For the priest, who stepped down in March 2007 after serving at St. John Neumann Church, Lilburn, the five-day-a-week hospital work is a change of pace. He got into the work after he was approached by Archbishop Wilton D. Gregory and Father Francis McNamee, director of priest personnel. Msgr. Giusta said he didn't hesitate at all to accept the position.

Msgr. Giusta moved to Atlanta in 1972 to serve as a priest and has been pastor of several parishes over a period of more than 30 years. Recently, to be closer to the patients he serves, he moved into a small apartment in East Atlanta. It puts him within a 10-minute drive, without traffic, to any of the three facilities he covers. It is handy to be centrally located when he gets a call in the early morning for a family emergency.

The hospital has a different pace for the long-time pastor.

For one, he no longer worries about meetings, making sure a roof isn't leaking or other projects that can fill a priest's calendar.

"In hospital ministry, it's just about ministry. There's a small amount of record keeping," said Msgr. Giusta, who is "of retirement age."

He said all his energy is on ministering to patients and he isn't distracted by other pressing business. His near fluent Spanish is a valuable tool in the hospital where an increasing number of Spanish-speakers are coming through the doors.

Msgr. Giusta connects with people for only a short time. A trusting relationship has to develop quickly between a patient and the minister. At a parish, he develops long relationships with people. "The most important thing is to be present," he said.

It isn't easy to deal with the emotions unleashed in a medical situation, he said.

"You are constantly with pain and suffering, from the patients and their family," he said.

"Life issues become religious issues," Msgr. Giusta said.

Pastoral care is in the mix of health care, from dealing with end-of-life issues to medical treatment.

"Professional chaplains respond to these concerns in unique ways, drawing on the historic traditions of spirituality that contribute to the healing of body, mind, heart, and soul," according to the Association for Clinical Pastoral Education.

Indeed, the hospitals at Emory University include in their list of patient rights: "Receive respect for your cultural and spiritual beliefs."

The Center for Pastoral Services reaches out to patients. The chaplains strive to live out the biblical story of the Good Samaritan, as they offer comfort and a supportive relationship to all patients. Across the hall from the second-floor office is a small nondenominational chapel for people to seek comfort.

Elwood Spackman, a former United Methodist pastor and pastoral services director, said the hospital system needed a Roman Catholic priest to provide the sacraments to the growing number of Catholic patients. Other priests would assist when they could, but they were often stretched to the limit, he said.

About two years ago, Spackman said he approached the Atlanta Archdiocese to see about getting a priest assigned to the hospital.

He said Msgr. Giusta brings invaluable experience to share with the pastoral students at the facility, along with the staff.

"To the patients, he brings a warm pastoral heart," he said.

"He is very willing to take on any extra duties he can help on," said Spackman.

Msgr. Giusta is no stranger to a hospital. As a parish priest, Msgr. Giusta saw people who were ill and visited the hospital. But this five-day-a-week position means learning new skills. He is slated to take a course at the Candler School of Theology during the summer to deepen his understanding of spiritual needs in a hospital.

He is responsible for pastoral care to Catholics at Emory University and Emory Crawford Long hospitals and Wesley Woods Geriatric Center. To find Catholics, Msgr. Giusta relies on tips from volunteers from parishes like Sacred Heart, Atlanta, St. Thomas More, Decatur, and Immaculate Heart of Mary, Atlanta, who bring Communion to the sick at hospitals near the churches.

"I'm certainly not getting bored," said Msgr. Giusta. "It's very rewarding to me to do this kind of ministry."

One young man in his 20s taught Msgr. Giusta a lesson.

The patient was simply at ease with his illness.

"I believe God has chosen me for this," Msgr. Giusta recalled hearing.

"What impresses me immensely is the faith of these people in times of trouble. I'm really growing spiritually by understanding the faith of these folks," he said.
---
Msgr. Giusta invites patients or family members of patients at Emory University Hospital, Emory Crawford Long Hospital or Wesley Woods Center to contact him directly. His phone number is (404) 712-7204. He can be reached at his e-mail address: frank.giusta@emoryhealthcare.org.