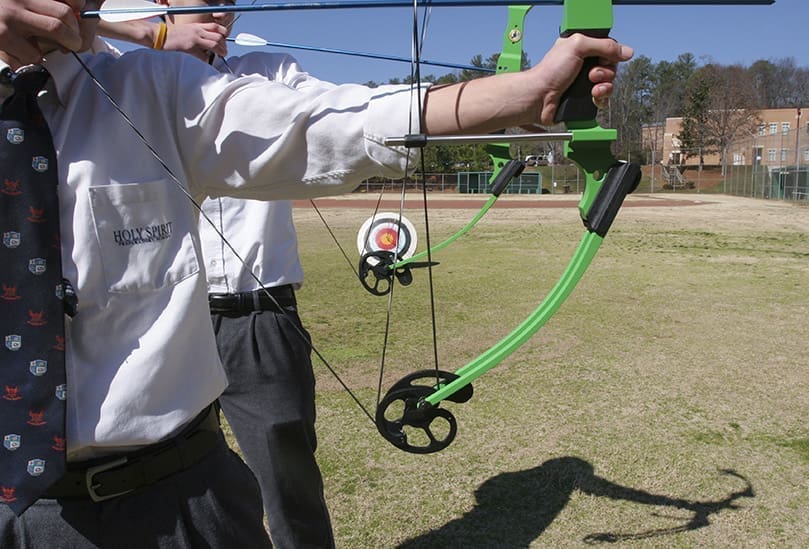 By MICHAEL ALEXANDER, Staff Photographer
|

Published March 13, 2008

Ten students from the Holy Spirit Preparatory School's archery team competed with over 70 other participants from Georgia and South Carolina in the Georgia Junior Olympic Archery Development State Indoor Shoot, Feb. 9 in Conyers. Seven students took home medals:

Adam Kendall – first place, male cub novice
Caroline Suarez – first place, female cub novice
Chase Handley – first place, male cadet novice
Sarah Skedsvold – first place, female cadet novice
Greg Stoll – third place, male cadet novice
Amanda Walker – third place, female compound junior
Graeme Helmer – third place, male compound cadet

On Feb. 23 at Fort Gordon seven members of the team competed with 60 other archers in the Georgia Bowhunter and Archery Association championships. Five of the team members placed in the following categories:
Youth Male Barebow
First place with 251 points and three x-rings (bull's eye) – Peter Boyle
Young Adult Male Barebow
First place with 273 points and six x-rings – Greg Stoll
Second place with 164 points and one x-rings – Alex Raus
Third place with 115 points – Sean Scrybalo
Young Adult Female Freestyle Limited
Second place with 328 points and four x-rings – Amanda Walker
The school started an archery club in 2005, and the team has been competing in outside competitions since 2007. Holy Spirit art teacher Rochelle Rombalski, who coaches the team, formerly shot professionally on the ProAm Archery Tour for bow manufacturer Matthews Inc. The Archery Shooters Association named her National Shooter of the Year in 2002.