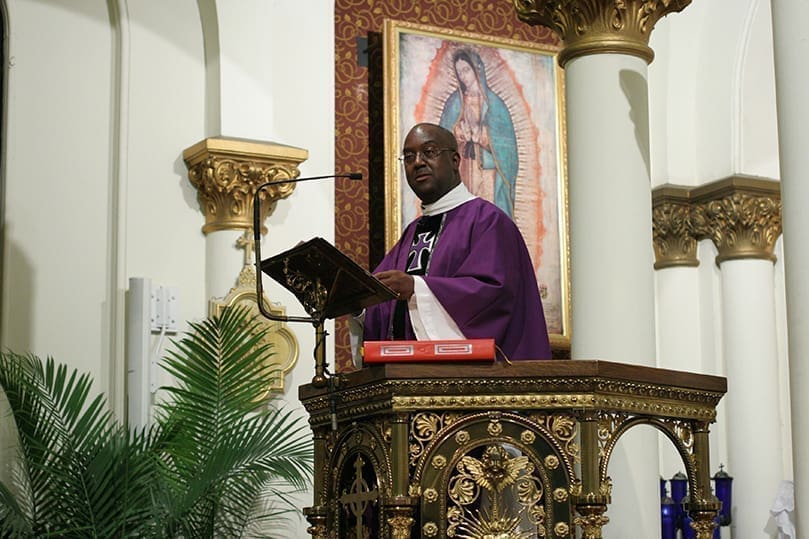 By ANDREW NELSON, Staff Writer
|

Published February 28, 2008

It was part Catholic history lesson, part poetry reading.

Resurrectionist Father Manuel Williams weaved biblical stories, the 2008 race for the White House, poetry from Langston Hughes and Jack London, along with song, to encourage the scores of people celebrating Black History Month at his Saturday evening talk at Sacred Heart Church.

"We have been dreaming and fulfilling dreams in the Catholic Church for years," said Father Williams.

Dreams changed history: from St. Joseph who was convinced in a dream to marry the Virgin Mary despite her pregnancy and a runaway American slave, Father Augustine Tolton, who dreamed to serve at the altar as a priest, to a man born in Atlanta's Sweet Auburn neighborhood, Dr. Martin Luther King Jr., whose dream changed a nation.

What matters is an open mind, focus on God's plan and dedication to overcome obstacles, said Father Williams.

Four center city parishes commemorated the contributions of African-Americans in the Catholic Church at a Mass Feb. 23 that blended the 13th-century hymn "Panis Angelicus" with graceful liturgical dancers. It was the fifth year that Black History Month was observed at Sacred Heart and the first time Atlanta's Catholic parishes of Our Lady of Lourdes, Sacred Heart, St. Anthony of Padua and the Shrine of the Immaculate Conception joined together for the event.

People in the pews spoke about their own dreams to rise above imposed limitations.

"It was a message of hope and turning dreams into reality and never giving up," said Bill Fuller, a head usher at Sacred Heart. As the first black architectural student at Georgia Tech and growing up in the civil rights era, Fuller said he knows the importance of dreams and holding on to them.

Patrice Barton, an executive in the banking industry and a lector and member of the Knights of Peter Claver Ladies Auxiliary at Our Lady of Lourdes, said the message was an encouraging one.

"I think it was a very powerful message that we're fulfilling the dreams of our ancestors," she said.

Ewa McGrail, who worships at the Shrine of the Immaculate Conception, said what is important is that dreams are able to influence the here and now.

"It was very uplifting. It was situated in the current reality," she said.

The festivities showcased the talents of the downtown Catholic parishes. The choir from Our Lady of Lourdes sang with the children's choir from Sacred Heart. The St. Anthony Liturgical Dancers contributed worship. Msgr. Henry Gracz, pastor of the Shrine, Father Thomas Meehan, pastor of Sacred Heart, and Marist Father Patrick Scully, of Sacred Heart, helped Father Williams celebrate Mass.

Assisting at the altar were Deacons Bill Simmons, of St. Anthony's, and Chester Griffin, of Our Lady of Lourdes.

The mother church for black Catholics in Atlanta is Our Lady of Lourdes, which was founded in November 1912 specifically as the first African-American Catholic church. Today, there are 10 parishes identified as core parishes for the African-American, African, and Afro-Caribbean communities. The number of black Catholics swings, depending on who does the counting. Estimates in 2005 ranged from a high of 105,702 to 12,500. Another count in 2006 found approximately 22,289 black Catholics, as reported by pastors.

Father Williams heads Resurrection Catholic Missions in Montgomery, Ala. Founded in 1943, the mission includes a parish, an elementary school, a nursing facility and service to poor senior citizens.

Its Web site said the mission ministers "to resurrecting those who continually are placed on the margins of our society."

Dreams can lift people up or discourage them, Father Williams said, but they are always important. He quoted poet Langston Hughes, "Hold fast to dreams/For if dreams die Life is a broken-winged bird/That cannot fly./Hold fast to dreams/For when dreams go Life is a barren field/Frozen with snow."

But dreams often mean hard work follows, he said.

"Dreams become reality not only through the divine intervention. They become reality through good old-fashioned hard work," he said. "It's not just about Benjamins," he said.

The mind has to be open to dreams knowing that fulfillment isn't easy, but life is richer because of them, Father Williams said. He recited lines penned by Jack London, "I would rather be ashes than dust! I would rather that my spark should burn out in a brilliant blaze than it should be stifled by dry-rot."

He talked about black Catholics who followed their own dreams and, in turn, helped the Catholic Church: from Elizabeth Lange, who started the first congregation of black sisters in the 1820s, and Father Tolton, the first Roman Catholic priest in the United States to identify himself as African-American, to the leaders at Xavier University of Louisiana, a historically black Catholic college.

Father Williams talked about the experience of opening the Resurrection Catholic Missions' $8 million state-of-the-art facility for poor seniors. He said it faced obstacles, with 30 reviews from state inspectors while most similar facilities never had one, and false accusations of abuse. It takes courage to focus on the dream and not be sidetracked, said Father Williams. "We can build on the power of the dreams."

Gertrude Tinker Sachs, a co-director of the children's choir at Sacred Heart, said the history of African-American women and men in the Catholic Church stretches back generations. When faced with obstacles, people need to anchor themselves in the faith, she said.

"These people built on their dreams, and we're able to accomplish them," said Sachs.