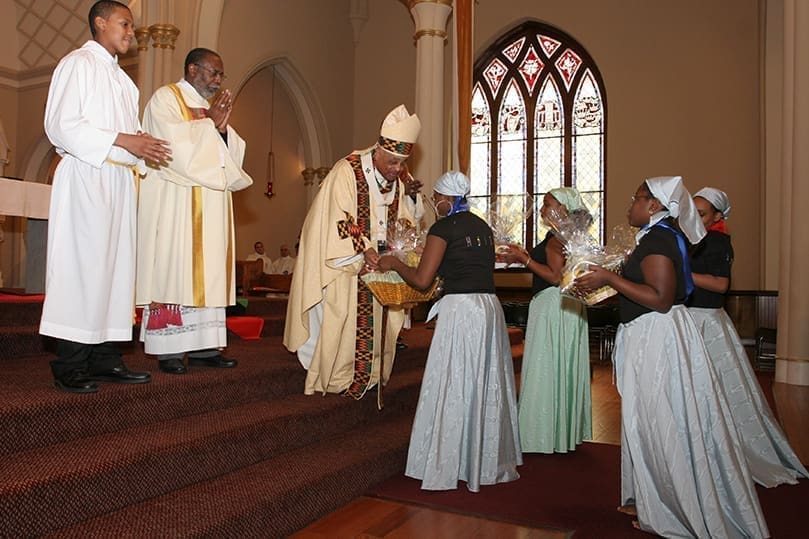 By ANDREW NELSON, Staff Writer
|

Published January 24, 2008

Hundreds of people filled the Shrine of the Immaculate Conception, braving Saturday's freezing temperatures and snow showers to celebrate Dr. Martin Luther King's life and his commitment to helping the poor. The annual Mass was held Jan. 19.

"I couldn't stay home. It's become a part of me," said Chevonne Brawner, who attends St. John the Evangelist Church, Hapeville.

"Being Catholic and knowing our church acknowledges everything that he's done means a lot to me and to my children," said Brawner, who is 37. She recalled growing up in Michigan that King's legacy was not honored with a holiday, but her parents kept her out of school for the day to recognize the man's contributions.

Slush covered the steps into the historic Central Avenue church as a dozen priests, five deacons and Archbishop Wilton D. Gregory made their way from the falling snow into the sanctuary. An African drumbeat welcomed the people and clergy commemorating King, Atlanta's native son.

Lisa Blair, 46, a member of St. Anthony of Padua Church, Atlanta, said King's memory should spur people to reach out to the less fortunate.

People continue to struggle, she said. "Things have gotten a lot better. We're still working for the same thing," said Blair.

King's birthday is Jan. 15, but the archdiocese celebrated on the weekend of his federal holiday. Catholics in Atlanta have marked King's memory for the past 24 years, before it was a recognized holiday.

The occasion also marked the 25th anniversary of the Office for Black Catholic Ministry, which is led by Charles Prejean. The office encourages diverse evangelization activities and serves as a liaison for the black Catholic community.

"We are able to include more and more people from different cultures in the celebration. We had a good cultural mix. It's good to hear folks from different cultures talking about the significance of Dr. King," said Prejean.

The office awarded its 2008 History Maker Award to Ralph McCloud, the newly appointed director of the Catholic Campaign for Human Development, and its 2008 Father Bruce Wilkinson Founders Award to Doris Grace, of St. Peter the Rock Church, The Rock, for her service at the interfaith House of Care and her numerous community activities. Her award announcement called her "a modest and unassuming woman, who leads by example not by words."

King was one of the leaders in the civil rights movement starting in the 1950s. Raised in Atlanta, he preached at the Ebenezer Baptist Church from 1960 until 1968 when he was gunned down in Memphis, Tenn., on April 4, 1968. King was 39 when he was shot. At that time, King was working on the Poor People's Campaign, an effort to fight economic injustice for the country's poor.

And Prejean said the church's goals match King's goals.

"We as a church are trying to implement the dreams and the goals of the Poor People's Campaign," he said.

A booklet at the Mass featured a list of Catholic groups dedicated to charity and justice, from the Catholic Campaign for Human Development to the St. Vincent de Paul Society.

"All these things are good signs," Prejean said.

Father Ricardo Bailey, a parochial vicar at Holy Spirit Church, Atlanta, in his sermon urged people not to be comfortable as women and men sleep out in the cold streets.

"Something extraordinary is going on downstairs," he said about the men's overnight shelter and the parish's St. Francis Table where volunteers care for the homeless and hungry.

He said that many politicians will be asking for votes in the upcoming months so people must put on "a holy thinking cap."

People need to learn how candidates plan to ease poverty before they cast a vote, he said. "If you aren't going to care for poor people … my vote can go elsewhere," Father Bailey said.

Archbishop Gregory asked God's mercy when people show a "lack of dreams, a bitterness of heart."

The 90-minute service drew representatives from the different cultural and ethnic groups that make up the archdiocese. Scripture was read in Korean. The prayer of the faithful was recited in the diverse languages of Polish, Creole, Vietnamese. Men wearing plumed hats and carrying swords from the Knights of Peter Claver, the largest African-American lay organization, stood as an honor guard. The Archbishop James P. Lyke Memorial Choir led the faithful in singing. Our Lady of Lourdes' Amazing Grace Liturgical Dancers offered praise with their bodies and movement. The offertory of bread and wine, along with baskets of fruit, were brought to the altar by dancers from St. Peter and Paul Church's Haitian community.

Among the nearly 400 people was a group of eight college students from the Lyke House, the Catholic chapel at Atlanta University Center. Students from the chapel volunteer feeding the poor at the parish.

"If it wasn't for him, I wouldn't be here," said Marvin Dorismond, 21, a sophomore at Morehouse College, about King. Dorismond, a native of New York City, said he felt energized after the Mass with its reminder how he is to serve others.

Cicily Smith, 20, a senior at Spelman College, said the Mass and King's life is an important reminder that college students and others are to be engaged in the wider community.

"It's important that we support the poor. As college students, it's especially important that we open our eyes to what's going on around us," said Smith, who grew up in Memphis, Tenn.