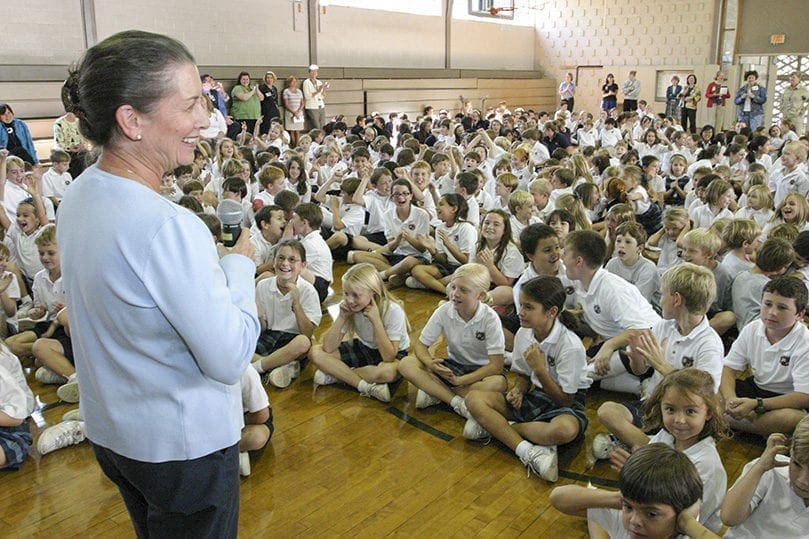 By ERIKA ANDERSON, Staff Writer
|

Published October 4, 2007

U.S. Secretary of Education Margaret Spellings announced Oct. 2 that two schools in the Archdiocese of Atlanta—Christ the King School in Atlanta and Queen of Angels School in Roswell—have been named 2007 No Child Left Behind Blue Ribbon schools.

The two archdiocesan schools were among only 50 private schools from across the country that were recognized either because they dramatically improved student performance on standardized tests in reading and math or their test scores placed them in the top 10 percent of schools in the nation or state.

Diane Starkovich, superintendent of schools for the Archdiocese of Atlanta, congratulated the faculties, staffs, administrators, parents and students of both schools and said that the principals would travel to Washington, D.C., later in the year to accept the awards.

"Locally, we are aware of the strong academics found in our Catholic schools, and now the nation rejoices with us," Starkovich said.

At Christ the King School, Peggy Warner said that the recognition was a great honor for the school, which is celebrating its 70th year. Warner has served at Christ the King since 1984, when she began a temporary position as a substitute teacher. She has now served for 19 years as principal of the school.

"I feel as wonderful about this school today as every day I walk through these doors," she said. "I felt it actually the first time I walked into the school as a 10-week substitute. It just felt like my old home."

She gave credit for the award to the CKS community, including former teachers, and mentioned that this is the second time the school has been awarded with the Blue Ribbon recognition. It was first named a School of Excellence in 1980.

Queen of Angel School students Jamie Holland, left, and Jacob Frate perform a dissection in their science class. The Roswell school was one of two Atlanta archdiocesan Catholic schools selected as a 2007 No Child Left Behind Blue Ribbon School.

"And here we are today. It's just a wonderful feeling. We've had so many great teachers come and go, and I truly wish every single one of them could be here to celebrate. Everyone leaves behind a little footprint and helps to make us who we are," she said. "Nobody does this alone. This is truly a community effort."

Christ the King School serves 551 students in kindergarten through eighth grade.

At Queen of Angels School in Roswell, principal Kathryn Wood said they were "floating." She also attributed the recognition to the community and said that the school works hard to live up to its mission statement, which proclaims Queen of Angels as a Christ-centered community built on Gospel values, that aspires to meet the spiritual, academic, social and emotional needs of each student.

"The community itself is just unique. Everyone works so hard and believes in the mission statement of our school and tries to incorporate that into all we do," she said. "We are steeped in our faith and we look for what we can do for these children. That's what makes us so strong."

Queen of Angels was one of three new archdiocesan elementary schools to open in 1999. The school serves 504 students in kindergarten through eighth grade.

Christ the King kindergarten teachers Robin Meleky, standing, and Theresa Morrow Vandergriff, sitting, read to their students. The Atlanta school was one of 50 schools selected as a 2007 No Child Left Behind Blue Ribbon School. Meleky has taught at the school for 19 years. First year teacher Vandergriff is a product of Christ the King School, where she was a kindergarten student in 1989-1990.

Including Christ the King and Queen of Angels, seven archdiocesan schools have now achieved national recognition, including St. Joseph School in Marietta, St. John Neumann Regional School in Lilburn, St. Jude the Apostle School in Atlanta, St. John the Evangelist School in Hapeville and St. Thomas More School in Decatur.