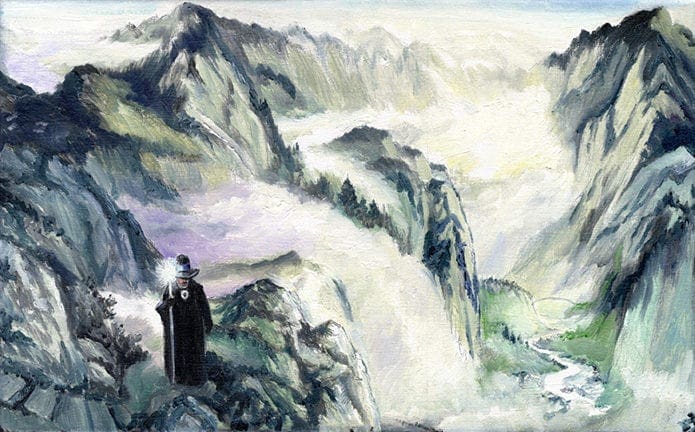 By LORRAINE V. MURRAY, Commentary
|

Published January 12, 2018

Over the Christmas holidays I was in the Tampa area visiting my cousin Julie and her husband, Chuck, plus my Aunt Rita, and a slew of other relatives.

My cousin John was on crutches because he'd had knee surgery the previous week. He had to keep his leg elevated, use ice packs and take pain medications.

Since he and his wife live in South Florida, she'd done the driving to get him to the festivities and kept a watchful eye on him as he sat on the couch.

I observed him making his way warily through the house, and suddenly the "Big Inevitable Thought" hit me.

This is the reaction many people experience when beholding someone else's misfortune. After a rush of compassion for the injured person, comes the thought, "What if that happens to me?"

So far, I've made it through life with three surgeries—one when I was a teenager and had my tonsils removed, and two more when I had cancer about 17 years ago.

In the first case, my mother was there to tend to my needs and listen to my heartfelt complaints that I wasn't able to enjoy the unlimited amounts of ice cream everyone had promised following surgery because my throat hurt too much.

In the other cases, my faithful husband helped assuage my pre-surgery jitters, took me to the hospital and made sure I got plenty of rest and nourishment afterwards.

But now he's gone, and even the simplest knee surgery could become a major problem for someone like me who lives alone in a two-story house.

Once the Big Inevitable Thought was unleashed, there was no way to banish it back into oblivion.

A tree limb could smash through the roof. I could trip over the cat and catapult down the stairs.

Fortunately, my mind was distracted from its dark imaginings when one of my cousin's grandchildren came scooting into the room on a small toy car.

In "The Screwtape Letters," C.S. Lewis writes that we meet God in the present moment: "Obeying the present voice of conscience, bearing the present cross, receiving the present grace, giving thanks for the present pleasure."

The interruption of my brooding by the child on the car was a present grace. And a reminder of Christ's words, "Do not worry about tomorrow, for tomorrow will care for itself."

For my New Year's resolutions, I decided to stop churning out lists of potential disasters and try to live more in the moment.

Second, I will trust that if calamities occur, God will get me through them, one way or the other.

After all, I told myself, the worst thing you ever imagined happened when your husband died, and you're still here, more than two years later, and getting through each day.

In fact, you experience moments of joy, whether it's that first delicious cup of morning coffee or the Hershey's chocolate kisses you eat at night while watching "Midsomer Murders" on Netflix.

A new year beckons us to wander into unknown terrain, lighting our way through the wilderness with a torch.

That torch is the light of Christ, which never fails us.

Where will this year take us? Who will we meet on the road? I have no idea what the answers are, but let's pray we will trust God more and put tomorrow in his hands.

Happy New Year, dear readers!
---
Artwork ("Traveling East," oil painting) by Jef Murray, www.jefmurray.com. Lorraine's email address is lorrainevmurray@yahoo.com.