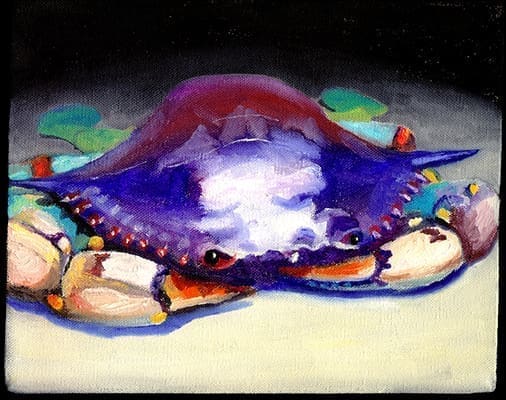 By LORRAINE V. MURRAY, Commentary
|

Published June 23, 2017

Years ago, my husband and I purchased a no-frills, tiny fishing boat, which we jokingly christened the Sea Moose. In this vessel, we journeyed around islands in the Gulf of Mexico and made marvelous discoveries.

Once, as we were launching the Sea Moose at the marina, a man in a state-of-the-art fishing rig did a double take. "You're going out in that?" he asked.

Clearly, the man was unaware of the boat's magical qualities.

You see, Mother Nature embraced the Sea Moose, proudly revealing her offspring on every journey. Like most moms, she made no distinctions among her children—and unveiled the humblest creatures as enthusiastically as her showier offspring.

Once, we encountered improbable creatures known as sea hares—tiny mollusks with antenna that resemble rabbits' ears. We also saw roseate spoonbills streaking across the clouds, like pink flowers strewn upon snow.

Serenaded by the popping sounds of pistol shrimp beneath the boat, we beheld sunsets transforming oyster beds into purple mountains. We saw fiddler crabs courting at low tide—and periwinkle snails scaling spartina grass at high tide.

The Sea Moose also could slip into the secret realm of memories. I grew up in Miami at a time when kids played hopscotch on the sidewalks and you could get deliciously greasy corn dogs at the downtown Woolworth's.

Nearly every weekend, my parents, my sister and I headed to the beach, packing our paraphernalia as carefully as explorers venturing into the untamed Amazon. Toting towels, bathing caps, chairs, suntan lotion, umbrella—and a picnic basket replete with goodies—we made our way to the water's edge.

In my memories, I see a chubby, shy child wearing a ruffled bathing suit printed in a gingerbread-man pattern. The sun paints her shoulders red, while specks of sand glitter like rhinestones on her arms. Sitting on a blanket in the protective shade of her parents, she dozes, while the grown-ups' muffled voices blend with distant music from a radio.

She awakens to the sound of waxed paper crinkling, as her mother carefully unveils ham-and-cheese sandwiches. Squinting skyward, the child sees her mother's face ringed with a halo of lemony sunlight. Her mother smiles, and the whole world, just for an instant, becomes an enchanted place, where anything is possible.

Now the memory wheel spins to 1995: My parents lie side-by-side in Our Lady, Queen of Heaven Cemetery in Fort Lauderdale. After leaving their turquoise house in Miami, I spent years searching for life's meaning at college—where the simplest things became complicated. Eventually, I married Jef, a kind and gentle man, who became the proud captain of the Sea Moose.

It's a blazing summer afternoon—and the captain and I are heading to the marshes in the Sea Moose. At a secluded spot called Goose Cove, where mullet jubilantly leap from the water, we drop anchor and then dig into the picnic basket. Nearby, blue crabs clamor for tidbits we throw from the boat.

The sun browns our skin, while wisps of music flutter from restaurants on the shore. The boat, with its cozy seats, seems transformed into a rocking chair—and I doze.

In my dream, I'm swimming in the sea, while my parents, young and tanned, are beckoning from the shore. "Lorraine, time to come in!" Obediently, I start paddling back to shore. I climb out and shake the water from my hair, while the ruffles on my suit cling to my body like feathers on a wet seabird.

A sea gull's cry jolts me awake. "Do you want to head back home?" Jef asks with a smile.

And suddenly, I look at him and glimpse the same tenderness in his eyes that shone thousands of times in my mom's. After years of searching, I feel that I've glimpsed the secret meaning of life—here in our simple boat.

And this is what I discovered all those years ago on that summer day: If you peel away the layers from everyday events, you'll uncover the love that mysteriously courses through the veins of life. This love permeates the tiniest creatures living in the sea, along with the fanciest birds decorating the sky. And everywhere you look, you will behold the face of God.
---
Artwork ("Lectio Divina") by Jef Murray. Lorraine's email is lorrainevmurray@yahoo.com. Please follow her on Twitter @lorrainevmurray.