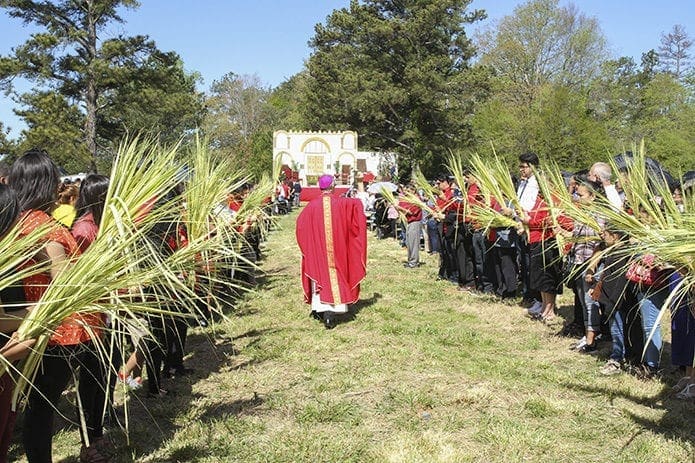 By BISHOP LUIS R. ZARAMA, Commentary
|

Published April 20, 2017

|

En Español

The celebration of Holy Week, which began on Palm Sunday and ended on Easter Sunday, presented a variety of events and moments in Jesus' life. The week started with the cheering of the Jews, proclaiming Jesus as King in his triumphal entry to Jerusalem, and the celebration of the Last Supper with his gift of Love, visible in the institution of the Eucharist and the priesthood. Then, after the celebration of the Last Supper, before being betrayed, Jesus cries in the Garden of Olives, and in the hours that follow come the betrayal, denial, false accusations, condemnation, His crucifixion and death. All this happened in less than a week.

Throughout, Jesus remains faithful to the Father, saying, "Father, not my will but yours be done." At the same time Mary remains true, following and accompanying her Son.

We live in a world seeking to ignore sin and pain at all costs, and this is what hurts us the most because as much as we try to ignore and deny sin, it exists, and this pretense causes our hearts to grow ever lonelier.

If we ignore sin and pain, we deny ourselves a solution, a remedy; we have no hope.

On Good Friday, everything seemed lost; there was darkness, death, pain and loneliness, but that was not the end. That is why we celebrate these Easter days, because even though for the entire world everything seemed lost and death appeared to triumph, it is precisely then that Jesus defeated all and rose, offering a new life. Jesus was victorious over everything and invites us to overcome loneliness, betrayal, abandonment, persecution, pain, fear, suffering, rejection, hatred and discrimination along with Him. How? By accepting our limitations, our sins, and placing them on the cross with Him. For when we put our hope in the cross with Jesus, neither the devil nor the world can steal our will to live.

Holy Week was an invitation not to be mere spectators but partakers with Jesus, for by celebrating with him we overcome and heal betrayals, insults, discrimination, pain and loneliness.

We all, without exception, are sinners, and in one way or another have lived or live a Holy Week. Let's join ours to the one of Jesus, which we just experienced, so that along with Him we can rise and heal to restore love, respect, peace, appreciation and gratitude.

Let's live like people who have hope in this Jesus who rose, after having overcome death. He is life, and He gives us His life!