By FATHER JAMES S. BEHRENS, OCSO, Commentary
|

Published May 12, 2016

It seems to me that one can learn a bit about human life by gazing out at the open sea.

It was a cloudy day. The sky kept its cloak of gray all throughout the day. There were strong winds and the sea rolled with swells. White caps appeared on the crests of the swells and then spread and frothed, soon replaced by new caps—a ceaseless cycle that went on for as far as I could see.

I was looking at all of this on a high deck of the ship and moved my chair closer to the large plateglass window. The window shielded me from the wind and afforded me a good view of the heaving water below.

I was looking for sea life. More precisely, I was looking for whales. The size of the whale did not matter. I just wanted to see one. A few days earlier someone yelled out that he saw a whale and when I looked in the direction to which he was frantically pointing, all I saw was a big splash that may or may not have been a big fat whale tail (or fin?). So I guess I missed the boat on that sighting. But no, come to think of it, I was ON the boat and still struck out.

So on the cloudy day, it seemed like just the right kind of day for whale watching. I sat there for several hours looking out over the sea. In a moment of despondency I lowered my gaze to the waters right next to the ship. I do not remember what I was thinking about. But I know that at that time I wasn't looking for anything. I was brooding over lost opportunities. Like missing the big whale and more than a few other things in my life.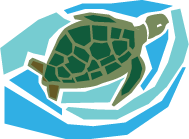 Then I saw it. A big tortoise. It was brown. It had big flippers. It was real. I called out to a guy who was not that far from me and he looked down, but by then the tortoise was no longer visible. It had drifted past the ship. The guy told me that I was very, very lucky. He said that seeing a tortoise was a much rarer sighting than that of a whale. He said that I should consider myself fortunate, even blessed, to have been given a chance to see just one. Wow, I thought to myself. And I wasn't even looking. The man headed back inside, and I kept my eyes riveted to the swirling and passing waters far below and that is when I saw another tortoise. No one else was on the deck then—and I kept that news to myself, perhaps out of a fear that no one would believe me.
Human vision is limited. The eyes can see only a smattering of what is out there. You look for one thing and may even look very hard—and you may not ever find it. But other treasures will appear, often when you were never seeking them. And they may be rarer than whatever it was you were looking for in the first place.
I think that everyone is, in one way or another, looking for God. In ways that are as varied as being human, we fix our gaze, our hopes, on what we hope will be God: something good, everlasting, comforting, wondrous, beautiful. But more often than not, we are disappointed. The God of our dreams never rises to the surface of life. And we turn away our eyes and hearts from a sense of loss. And then something wondrous happens, something we never hoped for, something maybe we never even dreamed of. And it is enough to take our breath away and give us hope.
I think God is like that. He is like the tortoise that I saw. He comes when you least expect him. And, if you are REALLY lucky, he will come twice—perhaps as a reminder that he is not one to be found by looking for him. He is, after all, a God of surprises.
---
Trappist Father James Stephen Behrens is a monk at the Monastery of Our Lady of the Holy Spirit in Conyers. His books are available at the monastery web store at www.HolySpiritMonasteryGifts.com.