By LORRAINE V. MURRAY, Commentary
|

Published April 16, 2015

"Is there a bathroom?" was my first question when our cousin Chuck invited us on a boat trip to a remote island in Tampa Bay. The answer was "yes," so I couldn't use that as an excuse not to go.

Truth be told, I once loved boating in our small, electric-powered vessel that lazily explored the marshes, but for this trip we'd be journeying to entirely new territory in deeper water—which, frankly, made me nervous.

Still, there would be six of us on board the 29-foot vessel, which Chuck's son Adam would rent—and that included 5-year-old Brody, Adam's son. And the little boy clearly wasn't afraid, so why should I be?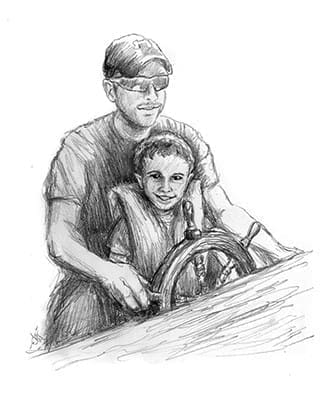 "How do we get into the boat?" was my next query.
It would be easy when we embarked on the trip, Chuck said, but there's no dock at the island, "so we'll just climb over the edge." Everyone within earshot assured me, however—Chuck, my husband and 29-year-old nephew, Josh—they would lend me a hand if needed.
I still had misgivings, but I was determined to go. After all, it had been far too long since I'd had a good, old-fashioned adventure—and for a writer it seems almost sinful to turn down these opportunities.
The night before, though, I awakened a few times tied in anxious knots. Was this really something I was up to?
That was when I realized how often I have trouble trusting human beings—in this case, people who promised to look out for me. It's no wonder, I told myself, you have difficulty trusting God. You claim to have faith, but you act like you're in control of everything.
We rose early on the big day, and Chuck drove us to the harbor to meet Adam and Brody. There was a small problem because Brody wanted to take his inflatable snake with him, but his father nixed that idea since it would blow off the boat for sure.
The wind was a bit frisky, and for just a moment, I hoped Captain Adam might call the whole thing off.
"Stop trying to weasel out of it," I scolded myself.
Adam stepped into the boat and methodically went over a safety checklist. Once that was done, the rest of us joined him—Jef, Chuck, Josh, yours truly and little Brody, who nestled down in the prow and remained there quietly for the entire journey.
The boat began weaving languidly through the canals and I relaxed, telling myself this was going to be a fun day.
Then we entered Tampa Bay and our speed increased dramatically—and suddenly I was flailing around on my seat and holding onto the nearest support for dear life. The water was choppier than I'd expected, and frankly, I was scared, although what could I do? Suggest they take me back to the harbor?
"Stop being a weenie!" I chided myself.
Chuck, a former scoutmaster, surely sensed my fear because he did his best to distract me by pointing out sights along the way. And he didn't seem to mind when I latched onto his hand for dear life.
When we arrived at the island, Adam anchored the boat and then the crew disembarked with yours truly last. There were plenty of steadying hands and helpful advice as I managed to cautiously and gracelessly descend the ladder into the thigh-high water.
The island was exquisite—big live oaks, ospreys flying overhead and occasional gopher tortoises. I was somewhat disappointed, however, to learn the bathroom was no longer there, which meant inventing our own accommodations.
On the way back, I thought the ride was still mighty bumpy although other crew members claimed it was calmer—and Brody snoozed the whole way.
"This is a great adventure," I shouted as spray splashed us. "I bet we'll never forget this day!"
"Assuming we survive," I couldn't help adding.
We did survive and devoured a delicious seafood lunch at a dockside restaurant. In some ways I felt like I'd scored a small victory—not in the world of seafaring but rather in my attempts to be more trusting.
The key seems to be imitating the little boy who knew everything would turn out fine because his father was at the helm—and would surely get him safely home.
---
Lorraine Murray's latest book is a fun-filled mystery, "Death Dons a Mask," available online. Artwork for this column is by Jef Murray. Readers may contact the Murrays at lorrainevmurray@yahoo.com.