By LORRAINE V. MURRAY, Commentary
|

Published December 11, 2014

For most folks Christmas evokes a spicy scent emanating from a freshly cut tree. But in my family the season of Advent also had its own alluring aroma, which came from hazelnut biscotti.

The recipe my mother used—crumpled and creased with butter stains on the edges—came from her grandmother in Salerno, Italy. Early in Advent my mother assembled the ingredients, including candied cherries, hazelnuts and anise flavoring. That latter ingredient, which has a licorice taste, makes these cookies unique–but also means they aren't loved by everyone.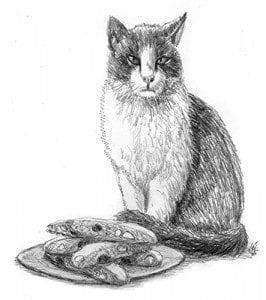 While her daughters watched carefully, my mom shelled, roasted and chopped the hazelnuts. She beat the eggs until they were frothy and folded in the other ingredients. Shaping the sticky dough into loaves was an art in itself similar to sculpting.
When I was a teenager, my mother wrote down the recipe for me on blue-lined notebook paper in her graceful hand. My father, a major biscotti aficionado, declared my first batch "as good as your mother's"—and believe me, there was no higher praise.
Many years later, I was all grown up and living in Atlanta in an apartment that I shared with a scruffy tomcat named Funky. Shortly after moving in, I started dating a very nice fellow who would feed Funky whenever I went out of town. I was delighted that my cat seemed to like this new boyfriend, since the old fellow had expressed disapproval of a former beau by lunging at him unexpectedly and giving him a sharp nip on the ankle.
Mentally I checked off the "cat approval" criterion with this new suitor, but there was another test lying in wait for him. Even though I was a non-believer in those days, I still followed my mom's traditions. So a few weeks before Christmas, I made biscotti and decorated a tree. Then I invited my boyfriend over for lasagna the next day.
I was eager to share the cookies with him but also nervous. What if he decided the flavor wasn't to his liking? What if he preferred something plainer like, say, sugar cookies?
Looking back now I realize how blind I was then. You see, I didn't realize how many things God had orchestrated just for me. He got me a teaching job at Georgia Tech exactly when I needed it. He found me an apartment with a landlord who liked cats. And he sent me this kind man at a time when I was sinking into serious cynicism about relationships.
As I was preparing supper on the big day, I heard a crashing sound in the living room—and discovered, much to my horror, that Funky had knocked the tree over in an attempt to climb it. But there was no time to do anything about this, since my boyfriend was knocking on the door. He bustled in, bearing flowers and wine, and cheerfully went to work righting the tree. Then we feasted on lasagna, while Funky sat nearby, purring rapturously.
For dessert I presented a tray of biscotti and held my breath as my beau took his first bite. His face lit up. He went for another one. They were a hit!
Today I know Advent is a time of waiting to celebrate the coming of Christ into the world. I also believe Christ enters our lives disguised in the hearts of other people. In my case this boyfriend brought light into my dark life. I suffered from depression; he was upbeat. I worried about everything; he was confident things would work out. Truly, even if he hadn't liked the biscotti, I still would have loved him.
Before long, Funky's age caught up with him and he had to make that last trip to the vet's office. I collapsed in tears at home, while this dear fellow went with Funky and stayed with him until the end. My beloved didn't think it was a big deal, but I certainly did.
After our marriage, I continued the tradition of making biscotti in Advent. When that special aroma fills the house, we both know Christmas is drawing nearer. And when the first batch is done, we happily sample a few, sometimes with red wine.
Really, there's only one thing that would make this tradition more perfect, and that would be if Funky were still here. Sure, he might knock over the tree, but that wouldn't matter at all.
---
Artwork by Jef Murray. Readers may contact the Murrays at lorrainevmurray@yahoo.com.