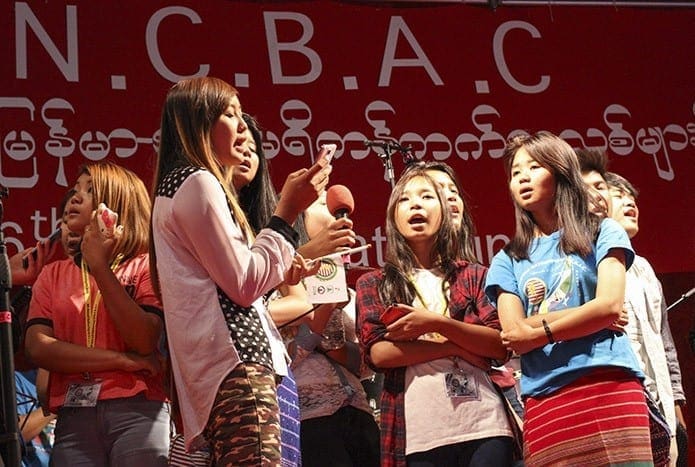 By NICHOLE GOLDEN, Staff Writer
|

Published October 28, 2015

NORCROSS—"Be Not Afraid" was the theme of the 2015 National Conference of Burmese-American Catholics at the North Atlanta Trade Center in Norcross Sept. 4-7.

Deacon Peter B. Swan, of St. Philip Benizi Church, Jonesboro, and president of the NCBAC, estimates that 1,800 Burmese-American Catholics from across the United States attended the sixth annual event. Thirty clergy members from Burma, Canada, Australia and Europe also participated.

The event theme, said Deacon Swan, was "meant as a message of encouragement to the older generation as they had to leave what little they had and begin a new life for their families in a country which in most cases is completely different from their old country."

The theme offered similar encouragement to the younger generation of Burmese, reminding them to put trust in the Lord as they learn new things while remembering their customs and traditions.

The Southeast Asia country of Burma, also known as Myanmar, is one of the top five nations of origin for refugees served by Catholic Charities Atlanta.

Cardinal Charles Maung Bo, Burma's first and only cardinal, was set to attend the conference but due to a last minute schedule change was unable to come. Cardinal Bo sent assurances of prayers and spiritual blessings and wishes for a successful gathering, noted Deacon Swan.

Bishop Lucius Hre Kung, bishop of the Hakha Diocese of Burma, celebrated the opening Mass at the trade center on Saturday, Sept. 5.

Those attending the conference attended a variety of workshops covering apologetics and youth workshops on current issues and Catholic teaching.
Burmese Buddhist monks attend
Archbishop Wilton D. Gregory celebrated Sunday Mass Sept. 6 for conference participants. The archbishop's homily focused on the Gospel accounts of Jesus' ability and desire to heal all from every disorder.
"When Jesus entered the district of the Ten Cities, the citizenry brought him what many of them must have thought was simply a problem; a nuisance—a man with a hearing and speech impediment," said Archbishop Gregory.
In this instance Jesus saw a brother and a possibility, not a problem.
"The Lord of the Gospel healed a man with a problem with his ears and his tongue, but he also allowed the citizens who witnessed his power to have their faith challenged," said Archbishop Gregory.
After Mass, Archbishop Gregory was presented with a rosary made of Burmese jade and strung into a rosary by Father Anthony Delisi of the Trappist monastery in Conyers, said Deacon Swan.
For the first time in the event's history, Burmese Buddhist monks attended to present a program on the similarities between Buddhism and Christianity.
A closing Mass was celebrated Sept. 7 at Corpus Christi Church in Stone Mountain.
The conference's roots date to September 2010 when a group of 500 Burmese laity and clergy gathered in Pennsylvania to form an organization "built on love and Roman Catholic belief" to serve the Burmese living in America and the church in Burma.
"At the end of that weekend, guided by the Holy Spirit and under the advice of all clergy present, the National Conference of Burmese-American Catholics was formed," said Deacon Swan.
He is a national advisor on Burmese ministry to the U.S. Conference of Catholic Bishops.
The 2016 conference will be held on the Fourth of July weekend in Buffalo, New York.
Deacon Swan received many positive comments from attendees about the gathering, organized by the Myanmar Catholic community of Atlanta.
"I am very proud of our hometown team and kudos to them all. The organizers for the Buffalo, New York, event have already commented that there is no way they can outdo Atlanta," said the deacon.
---
To learn more about the National Conference of Burmese-American Catholics, visit http://www.ncbac.us/.