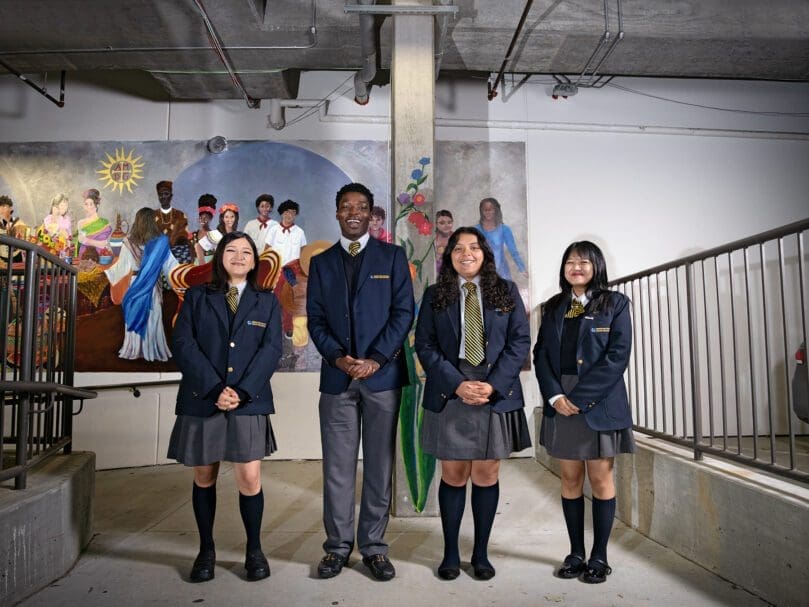 By ANDREW NELSON, Staff Writer
|

Published September 7, 2023

ATLANTA—Commemorating a decade of education, Cristo Rey Atlanta Jesuit High School unveiled a 28-foot-long, colorful mural featuring a collage of its students, showcasing their diverse backgrounds.   

Hakeem Kokumo admitted being shocked when he saw himself among the 20 students featured in the mural, wearing a Nigerian Kofia cap and giving his trademark two thumbs up.  

"Just to see yourself being represented, it's just a nice feeling, and it surprised me. Like I said, I didn't know."   

Kokumo, 17, is a rising senior at Cristo Rey Atlanta and the student government president. His parents emigrated to the United States from Nigeria.    

The mural captures the spirit of fun and unity at the school's annual Heritage Day celebration. The community shares students' customs through cuisine, clothing, and music. It's also a chance for students to mingle, as each grade usually stays on a single floor.  

"I hope it's a reminder that we're all together, that we're all in this together. The mural shows we're still, even though the building separates us, we're still together," said Kokumo. 

Theology teacher Deacon Sami Jajeh led the project, which draws on the "Catholic principle of unity in diversity." He said the students' involvement in the painting and the mural's location at the student entrance allows them to see themselves as part of the school community.   

The mural celebrates the heritage of the students at the school, from various ethnic and cultural backgrounds, including Hispanic, African, Caribbean, Middle Eastern and Asian cultures, he said.  

"The goal was to have Heritage Day be every day but also to have the Catholic principle of unity in diversity. We're one school community. We're one family of Cristo Rey."   

Cristo Rey Atlanta Jesuit High School opened its doors in August 2014 with some 160 students in the inaugural first-year class. Initially, it was located in the now-razed Archdiocese of Atlanta headquarters in Midtown. The school offers a college prep curriculum for students from financially-strapped families. One day a week, students work in Atlanta businesses earning money to subsidize their education.  

The mural took shape during a long May weekend under Charlene Shikany's direction. The portraits in the scene came from student pictures taken at Heritage Day. She runs Asa's Alley art studio in the basement of St. John Chrysostom Melkite Church. The figures sit around a table featuring food and fabrics from different cultures. Among them is Jesus, arms extended to embrace all the people.    

Deacon Jajeh said the artist portrayed a eucharistic scene, where people gather around a table to celebrate and give thanks. The mural does not represent the Last Supper but shows a banquet of food where Christ embraces everyone as one family of God, he said.   

"Any time there is food, people will come together. We decided to make it all about food," said Shikany.   

For Shikany, 72, the five days spent painting offered a glimpse into the lives of extraordinary students. "Their community is truly remarkable," she said. "Their community is something really special. They are celebrating each other's uniqueness. There is something in each and every one of us that is unique. The Bible tells us. We should grasp hold of that. Keep our uniqueness, and don't let anyone change that."   

Student artists from her studio assisting her in the project were Alyiah Shikany, Leela Levering, Sophie Garzik and Katie Bivins.  
Learning and belonging
Jamie Cruz-Olmedo, 17, put aside her nerves to pick up a paintbrush. She remembered her last art class was in middle school. The senior feared a lack of experience with a brush and paint might be a problem. Instead, the Cristo Rey senior found the artists welcomed her.    
"They did the faces and the intricate stuff. I was like, let me try to not mess up the mural that already had so much progress," said Cruz-Olmedo. She focused on painting flowers and a dress.    
She appreciated the symbolism of the table theme, showing unity among students from diverse backgrounds.  
"I really like the table scene setting. We all eat at the same table, so although we come from different backgrounds and we completely have different households, we can sort of connect," she said.   
Sarahi Villalobos-Avalos, 16, is a high school junior. She's a member of Cristo Rey's Paint Love club but considers herself more of a doodler than an artist. She jumped at the chance to learn from the professional artist. She painted the image of Our Lady of Guadalupe in the folds of a dress, an honor for her as a Mexican American. She had just a few days to paint what would have taken months to complete, but she felt peace and calm.    
"It was all so supportive. They would give me tips about the paint and the density because, like I said, I don't consider myself an artist. When they were teaching me about the paint, I was really thankful," she recalled. "I was like, wow, I've never experienced anything like this. It was really nice."    
Caitlyn Sipin performed a Filipino musical piece in a traditional folk dress at this spring's Heritage Day. To her amazement, Shikany placed her in the mural.   
Sipin, a 15-year-old junior, found it empowering as it represented her Filipino American background. The mural contributes to her sense of belonging in the school community.   
"Throughout my school career, I haven't really been noticed for my race, or I've been kind of isolated because of my race. But coming here has been quite accepting because a lot of my friends tend to just look past my race and make me feel like who I really am," said Sipin. "I feel heard and, accepted because it was really hard for me growing up to be Asian. I just love seeing the mural outside every day and just seeing me. I appreciate it."