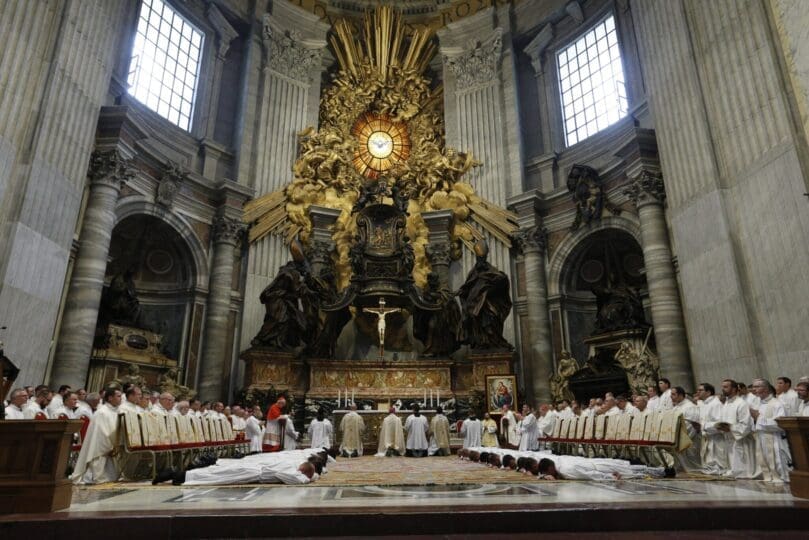 By ALEXANDER BROWN, Special to the Bulletin
|

Published October 16, 2022

VATICAN CITY—"When I encounter the Lord in prayer, I become joyful," said Pope Francis on the topic of discernment in his Sept. 28 Wednesday General Audience. The next day, 23 seminarians received ordination to the transitional diaconate in St. Peter's Basilica. One of those men was Nicholas "Nick" Le, a seminarian of the Archdiocese of Atlanta, who has been studying in the North American College in Rome.  

Nick knows how prayer and relationship with the Lord have brought him and many friends and family closer to Christ. I am grateful to be one of those friends. I have known Nick for some time and have been greatly blessed by the kindness and love that he has shared with me in addition to his rich prayer life, devotion and discernment of God's call. 

In addition to a great cloud of witnesses of the saints—some of whom like St. Peter and St. John Paul the Great are buried or entombed meters away—Nick had a cadre of spiritual companions at his side: an archbishop and an auxiliary bishop, priests, a deacon and his wife, a husband and wife and their four children, another pair with a toddler back home with family, two newly married couples, a seminarian, an engaged couple, single men and women discerning their vocations and his very happy mother watching it all with the blessed Mother Mary and our church. There may not be a better image for the diverse reality of vocation, a beautiful sight which is much needed in our time. 

On Thursday, Sept. 29 at 11 a.m. all attending entered through the side of the great church to sit behind St. Peter's Altar where the pope celebrates liturgy. The sacraments of the Eucharist and holy orders were to be celebrated in front of St. Peter's Chair—a 20-foot Bernini sculpture that symbolizes the unbroken laying on of hands between Jesus himself and all who have said yes to that call.  

The huge expansive space still felt intimate as we filled the pews awestruck and knelt in prayer. At the start of Mass, Nick walked in with a serious and sincere demeanor. Not until the fraternal kiss of peace shared between the priests and deacons did he reveal in his smile the joy he undoubtedly had all along. The choir sang the heavenly Biebl setting of the Angelus, a poignant prayer that "it be done unto me according to thy will." After receiving the efficacious sign from the celebrant Bishop Austin A. Vetter of Montana, the new deacon's face lit up and raised to heaven as he processed out.  

That night we gathered at a local restaurant to celebrate as did the Lord at Cana. Archbishop Gregory Hartmayer, OFM Conv., joined the festivities.  

"To be at Nicholas' diaconate ordination in Rome," he said, "was a special moment for me. I felt as proud as a parent to be present and look back at the 26 years that I have known him. He has grown up to be a fine young man who has embraced his faith with his family's guidance and the help of many others who have been a part of his life." 

On Friday, Nick celebrated a Mass of Thanksgiving, his first Mass as a deacon, with the archbishop. Nick knelt by his side during the eucharistic prayer.  

Archbishop Hartmayer has known Nick since his altar serving days at St. Philip Benizi Church in Jonesboro, where then-Father Hartmayer was pastor, offering him his first reconciliation and holy communion. The archbishop noted the seminarian's consistency, leadership, reverence and readiness to step in when needed. 

"In the end, accepting the Lord's invitation to spend years of formation and theological preparation to receive the sacrament of holy orders as a transitional deacon really depended on Nicholas' relationship and encounter with the Lord.  Nicholas has fallen in love with God and his church and has answered the call to be an ordained disciple with Jesus Christ. I could not be more proud of him as his former pastor," said the archbishop. 

One longtime friend from Georgia Tech, Monica Cahal, noted the overflowing of love she saw in Nick and the beautiful confluence of providence and vocation. 

"The same week my husband Chris and I laid down our life for each other in our wedding, we traveled to Rome to see Nicholas lay down his life, literally and physically, for the church. Both were in the context of the holy Mass when Christ lays his life down for us," she said.  

Cahal said that it was so powerful to celebrate these acceptances of their vocations and to witness the richness of God's love. 

Throughout, Nick's mother, Pauline Le, held a look of joy and trust similar to that of Mary, captured in the sculpture, La Pietà. 

"I was taught that children are God's children given to us to raise," she shared. "I took the responsibility seriously and gave Nick all he needed to prepare him for where God will take him. Through thick and thin, there were times that I put one foot in front of the other, praying for grace and strength to do God's will and for all to turn out according to his plan." 

Pauline Le noted its rewarding to see the fruits of labor and to witness her son's courage in answering God's call with joy, especially in the current culture. 

"I pray that he is faithful to God in carrying out his mission," she said, "to make disciples of all nations." 

The new deacon will be ordained to the priesthood for the Archdiocese of Atlanta on May 27, 2023. 
---
Alex Brown is a writer for The Georgia Bulletin's Young Adult Angle. He teaches high school Spanish and computer science at St. Mary's Academy, Fayetteville.